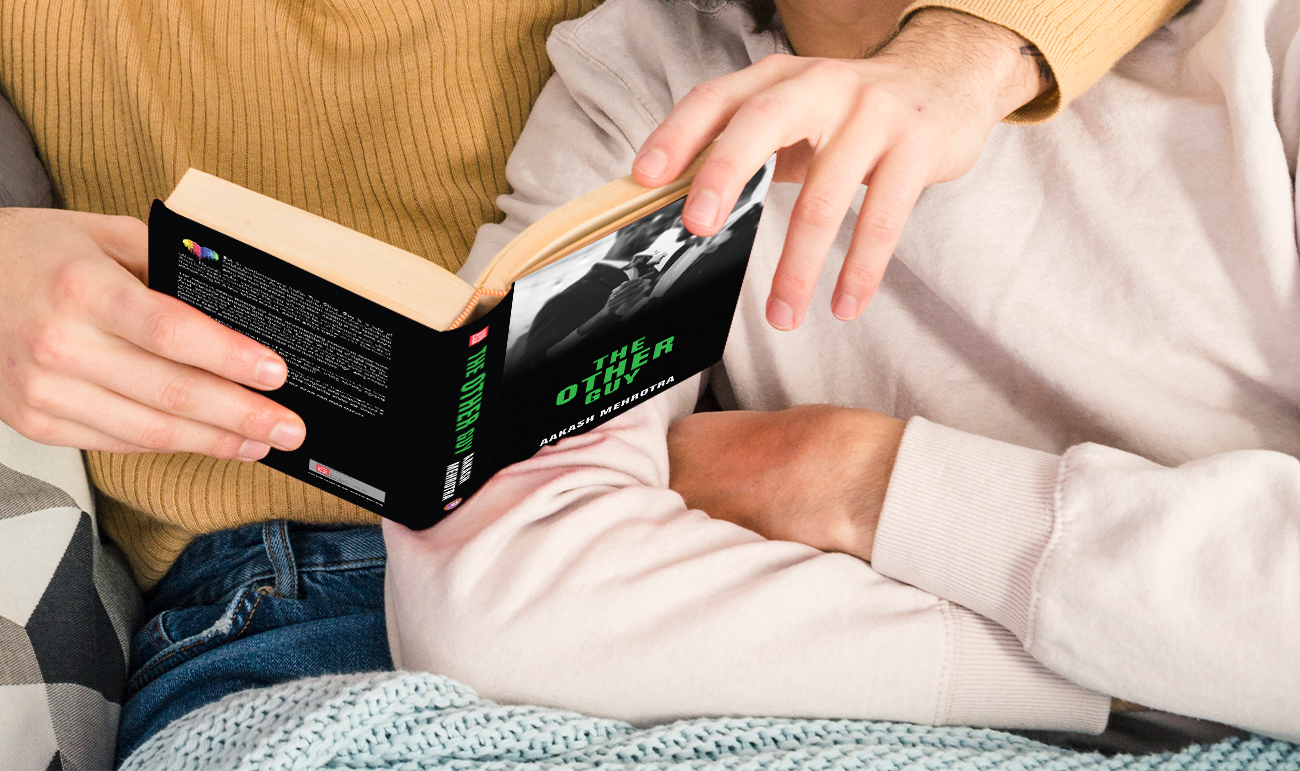 THE OTHER GUY
It has been two years since Section 377 of the Indian Penal Code was read down, de-criminalizing homosexuality in India. I saw it as a landmark judgement that influenced the lives of millions.
Acceptance of the LGBT identity has still to become part of mainstream Indian society. Recent policy changes have still not righted the balance for the community, nor has expression of its deeply seared human experience taken wing in art, cinema, and literature as it ought. Media coverage remains inhibited and sketchy.
Though much remains to be done, 2021 is nevertheless many strides forward from 2015, when I began writing The Other Guy (Leadstart 2016), my debut novel, based on gay romance. Friends told me it was a risky proposition; that no one would publish it. But I went on, and someone did, perhaps signalling the turning tide of change.
Gay art and literature goes a long way in providing solace, joy, and a lifeline to members of the community. Words and images they can identify with, and which can inspire them. They find answers in them. Coming from the community and having personally dealt with those moments of heightened anxiety, and feelings of isolation and pain that came with keeping my sexuality a secret, I consider it a responsibility to use my authorship to heal some of the same pain. As a story-teller, regardless of sexuality, it was also a challenge I found worth taking on. At the time, India had barely seen a clutch of offbeat movies, or literary works with gay narratives, and those were niche and stereotypical.
The challenge was to place my characters in a context which everyone could relate to, without the background of set norms and stereotypes. It was to show love as an expression, defined only by human experience.
Growing up, I did not have any literature or art I could revel in as reflections of my world. The Shakespearean dramas with their element of gender fluidity, and boys disguised as girls, or vice-versa, came the closest.I knew it was important for me to start telling stories. If not I, then who? If not today, then when? An entire segment of human experience cannot remain hidden and forbidden. In doing so, one does a great disservice to an entire community, who are also artists, explorers, scientists, and more. They are left to bear the heavy burden of aggression, pain and anxiety, seated within; compelled and conditioned to hide or cover up their differences in order to conform to the norm. Growing up, I did not know any others like me, or of any safe space. I am certain that if I had but had access to stories and literature I could relate to, I would have found great solace in my aloneness, and might never have lived the issues I had to endure.
Stories help shape cultures, evoke discussion, inform, and nurture ideas. Above all, they link us as people and make us more accepting of others.
They do way more than a piece of legislature. The goal is that such stories, telling of the struggles of gay individuals, will help many break free of the closet and accept themselves, and inspire society to take a step from prejudice to pride.
AAKASH MEHROTRA is a management consultant working in financial technology, to extend financial services to rural and low income households. He is an environmentalist at heart, who believes technology is the underpinning to sustainable development. His peripatetic lifestyle and love of stories have turned him into a travel writer. His blog handofcolors is among the top travel blogs. Juggling data and numbers by day, he dives deep into the world of imagination by night. The Other Guy is his debut novel.