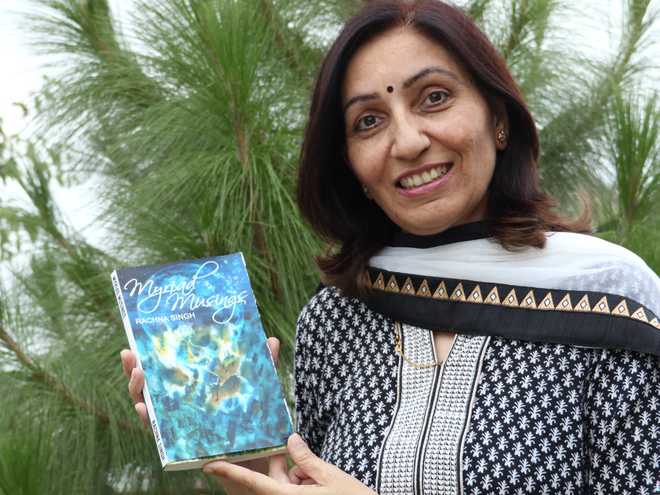 Senior IRS officer Rachna Singh has come out with her second book, Myriad Musings, in quick succession to her first one. While her first book, Penny Panache: Piecing the Economic Puzzle, was a foray into a world of pragmatic economics, her second book has a predominantly literary flavour. Presently posted as Commissioner, Income Tax, Rachna has woven together different aspects of life in this collection that amuses, inspires contemplation and at times elicits tears of sorrow.
Talking about the inspiration behind her book, Rachna says, "Even as we move through the humdrum of our daily life, thoughts and incidents jostle for attention in our mind. In my book Myriad Musings, I have attempted to bind together the varied strands of such thoughts and incidents in a compilation that is quirky, ironical, factual and at times heart-wrenchingly sad."
The book is divided into five sections. The first section, Motley Musings, is a charming blend of characters and incidents from the author's life – the mammoth rum guzzlers from Bengdubi and the deadly beauties of Jabalpur.
After a smiling prelude, Misty Musings, sketches vignettes that elicit a tear and at the same time, teach the value of serene acceptance. The third section is called, Mangled Musings. The author in her missive to the reader claims that this is no whimsical title but includes ruminations on the mangled value system. Thoughts on corruption, WhatsApp sexting, and victimization of women jostle for attention in this section. The author has devoted one whole section called, Maidenly Musings, to problems faced by the contemporary working woman and suggested ways to make women them strong and independent. The last section My Trip Musings takes the reader on an armchair sojourn to Europe where one comes across the Loch Ness monster or ventures into the academic environs of Cambridge and Oxford. — TNS
Source :- http://www.tribuneindia.com/news/life-style/gyan-zone/life-s-journey/308557.html
Source :- http://paper.hindustantimes.com/epaper/iphone/homepage.aspx#_article131cc305-ef0f-4126-9fb1-668c1084d434/waarticle131cc305-ef0f-4126-9fb1-668c1084d434/131cc305-ef0f-4126-9fb1-668c1084d434//true